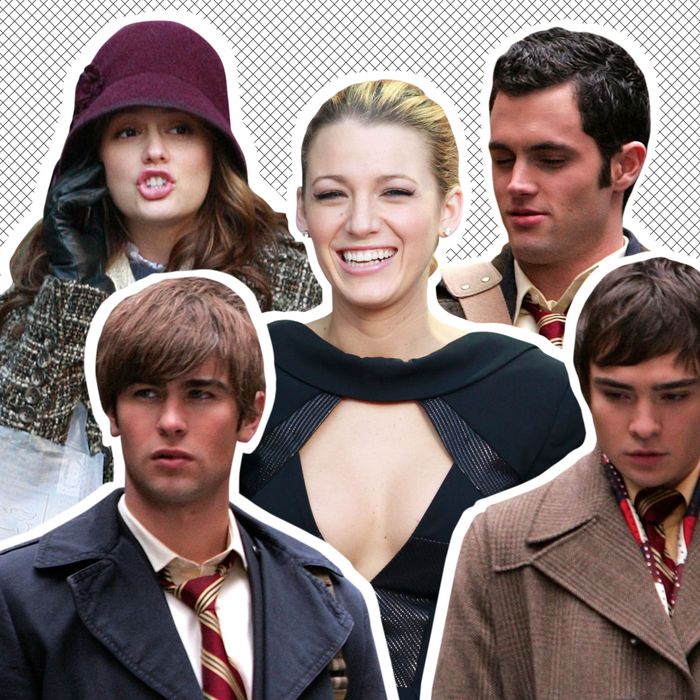 Photo-Illustration: The Cup. Photos: Getty Images
Greetings and blessed Gossip Girl Restart Eve to everyone celebrating. The long-awaited rebirth of the world favorite false blogger is about to be hot, murderous, hot, scandalous, especially diverse, and did I mention hot? In preparation for this sacred cultural event, it's fitting that we pay homage to the holy trinity of the Upper East Side: the cast, intrigue, and opulent absurdity of the original. Gossip Girl series, which ran from 2007 to 2012 and, like the reboot, followed the rich, whimsical lives of the rich, whimsical teens in prep school.
There was Dan Humphrey, the brooding outcast played by Penn Badgley, who was published in The New Yorker at the age of 16 years. (In the TV series, it was short story. In the books, it was a poem called "Sluts," a five-line composition that ended with the line "You are a whore.") There was Serena van der Woodsen by Blake Lively, the quintessential "It" girl who once got a job as a production assistant by [checks notes] bump into a guy who was reading a book she liked. And who could forget Blair Waldorf, the sensitive Chanel bag played by Leighton Meester, in all his over-performing and headband-wearing glory?
But throughout the 121 episodes of the original series, it was the puzzling and often unexplained storylines that struck me the most. It's at such times that I hope this gorgeous new team of youngsters will come face to face, struggle, or at least recognize that they are completely mad in the upcoming series. For your consideration: eight OG Gossip Girl moments I'd like to pay tribute to the reboot.
Do you have a moment to talk about our Lord and Savior, Hilary Duff? More precisely the scene, during its recurrence Gossip Girl Role of season three, in which her character Olivia speaks-sings "LoveGame" by Lady Gaga? If it helps, the scene is part of a play written by Dan, based on an idea by Blair, which tells "Snow White" in modern times. In addition, it is organized by the Tisch School of the Arts. None of this makes sense and so this new cast of characters has to spend at least one (1) episode figuring out how it even came to be. Oh my God, would they be… too young to know who Duff even is ?? I need to lie down.
One of my favorite tropes for teenage drama is "I have a big shhh secret." The cast spends several episodes, even entire seasons, like, Hmm, I wonder what the Big Secret is ?? And then, once revealed, it's… hardly a big deal. This was the case with Serena believing she was responsible for a man's overdose. She made a scary confession to Blair – "I killed someone" – and then it was pretty much it. It resurfaces from time to time, but probably with little consequence. Does the new Gossip Girl do the actors know Serena as "that girl who thought she killed someone"? Will any of the characters also believe that they killed a man, only to realize that in fact they haven't? The suspense is killing me, unlike Serena and this man.
There are two things I think of when I hear Taylor Momsen's name: (1) she was almost Hannah Montana and (2) this time around she Gossip Girl character, Jenny Humphrey, put on a guerrilla style fashion show. On a cover of The Ramones' "Sheena Is a Punk Rocker," Jenny attends a posh New York Philanthropic Society gala with a runway show featuring pieces by J Humphrey Designs. There is leather! There are sunglasses! There are colorful tights under the dresses layered over even more dresses! The reboot trailer suggests we can expect at least one fashion show, though it appears to have fewer layers and more fire.
It's a story as old as time: a problematic girl and boy go their separate ways. A girl tries to make him jealous by dating a new guy. The girl realizes that New Guy is boring as hell. Then, just as she's about to break up, annoying New Guy reveals that he is, in fact, a British Lord. Unbelievable. Astonishing. Duke of Hastings, who? I can't wait to find out which of the new characters is actually a Baron from Australia or something.
Even though I haven't watched Gossip Girl until years after the end of the series – I'm late! – I distinctly remember the whispers on the Trio. That is to say the trio between Dan, Olivia de Duff and Vanessa, played by Jessica Szohr. Also, there was a whole exciting ad campaign suggesting that a threesome episode was imminent. It featured curmudgeonly critical phrases, like "VERY BAD FOR YOU". Again, based on the trailer, we can expect the trios to abound in the reboot, and if any one of them could feature a new cover of TI's "Whatever You Like", I would. would be satisfied.
Lest you forget it's a glorified soap opera, Gossip Girl gave us the feedback no one asked for, but we all earned it when he brought Bart Bass back from the dead. If nothing else, it's a sweet reminder that any beloved new character that the reboot kills can always be revived.
Somewhere between the elevator kiss and the wedding we've all been waiting for, it seems like everyone just forgot that Dan and Serena were essentially half-siblings. Their parents, Lily van der Woodsen and Rufus Humphrey, were exes, rekindled their relationship and eventually married. They then called off their wedding, but still! Guess that's no surprise considering there was also a story in which Chace Crawford's Nate Archibald was dating an older woman – brave! – and this woman was dating her own stepson.
Something to consider!