The author of the popular "Bridgerton" series has confirmed that two people killed in an accident on I-15 in Kaysville two weeks ago were his father and sister. (Julia Quinn)
KAYSVILLE – The author of the popular 'Bridgerton' book series has confirmed that two people killed in an accident on I-15 near Kaysville two weeks ago were his father and sister.
"I lost my dad and my sister. Because a catering company didn't secure their load and canvas bags spilled on the highway. Because a pickup driver didn't didn't think about driving when his blood alcohol level was almost three times the legal limit, "Julia Quinn said on Facebook. "I lost my father and I don't have my sister to mourn with."
On June 29, a food truck lost its load on I-15 near Burton Lane. At least two other vehicles slowed or stopped to avoid debris on the freeway, police said.
But Myron Millsap Barlow, 38, of Bluffdale, who drove a Ford F-250 and who prosecutors said had driven drunk since the day before he left Oregon, slammed into the rear of a Toyota Prius.
Stephen Lewis Cotler, 77, of Healdsbrug, Calif., And Ariana Elise Cotler, 37, of North Salt Lake, were killed, according to the UHP. Ariana Colter's service dog was also killed in the crash, the family said.
Barlow underwent an Intoxilyer test, which recorded his blood alcohol level at 0.146%, nearly three times the legal limit, according to court documents. He was charged by the 2nd District Court with two counts of automobile homicide and two counts of impaired driving with priors, both third degree felons; DUI, a Class A misdemeanor; and driving with an open container in his car, a Class C offense.
His next court hearing is scheduled for July 19.
Quinn said she had just finished writing a graphic novel with her sister, also known as Violet Charles, who was a comic book designer, and that the book was to be dedicated to their father.
"It will always be dedicated to our father. It won't be a surprise anymore, but I would like to think that he suspected that we would. He knew us so well. He was our father," she posted .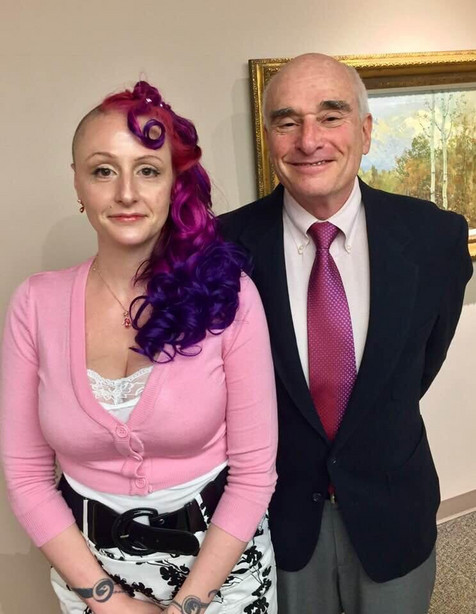 Stephen Colter was also an author. His children posted a message on his Facebook page in remembrance, recounting how he attended Harvard Business School but his real passion was writing.
"He also took particular pleasure in being" the most embarrassing dad ever "and perhaps won this award in the late 1970s with an appearance on the Gong Show. He was blundered," wrote children in their message.
Quinn also lovingly remembered when she stopped being embarrassed by her father.
"It was his 25th reunion. I was in second year, so I stayed in Cambridge to attend the festivities with him. The whole class of '65 had gone to a club in Boston to dance, and Janet Jackson came on the speakers. My dad I started to dance very badly (typical) but with a lot of enthusiasm (typical too). I saw a few teenagers point fingers and sneer, and I thought, "Yeah, you would like your dad to dance like that. "After that, I only felt pride for his geek. He was willing to try almost anything, and he never let the fear of embarrassment rule. his actions As a friend said after his sudden death, "We should all be a little more Steve," the Facebook post said.
×
More stories that might interest you