Rinna reveals what she and Harry Hamlin really think about their daughter's relationship, as Lisa RHOBH's co-stars step in as well.
Erika Jayne's split from Tom Girardi isn't the only relationship from May to December to have airtime on "Real Housewives of Beverly Hills."
In Wednesday's new episode, Lisa Rinna finally opened up about her 20-year-old daughter, Amelia Gray Hamlin, with Scott Disick, 37, as the couple's relationship started to get more serious.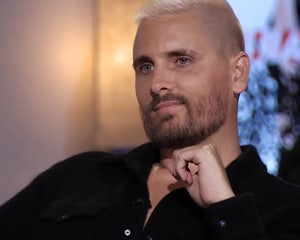 E!
Scott Disick talks about dating younger women, Kourtney's BF Travis Barker on KUWTK Reunion

See the story
After the headlines started connecting the two, Rinna said Amelia initially told her that the two were just friends. She finally realized there was something more going on when her daughter sent her a video of them together at the beach, which was followed by more shots of paparazzi sharing a PDA.
As she told Erika the news, Jayne exclaimed, "Oh, Amelia … what the hell is this ?!" Rinna agreed, shouting, "It's a fucking moment. You're like, 'What is this?
In a confessional, Rinna admitted that she only knew who Scott was because of "Keeping Up with the Kardashians" and his relationship with Kourtney Kardashian. When Erika said she was "a little nervous" about the match, Rinna added, "I'm very nervous about it."
After Erika admitted that she was "not the person" to judge anyone in this situation, she also wondered what Harry Hamlin thought. Noting that he was in a relationship with Ursula Andress when she was 44 and he was 28, Rinna said, "He's calm about it. I'm a little more of the 'Aw, Jesus!' Type.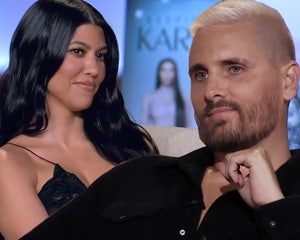 E!
Kourtney Kardashian reveals 'Deal Breaker' Scott Disick, if they've slept together recently

See the story
Rinna said she thought the relationship was just a "phase" and hadn't really talked about it in public because she didn't want to draw attention to herself anymore. She added that she hadn't heard from any of the Kardashians and thought about texting Kris Jenner, but didn't. She was happy, however, that this was a "new headline" associated with Amelia, which had only really been in the news for her eating disorder issues in the past.
As Lisa and Erika were shopping for Christmas presents, Erika wondered if Rinna would get something for Scott. After Lisa wondered why she couldn't just "send Scott over to you," Erika joked, "He doesn't like me honey, I'm too old!"
The subject resurfaced at the end of the hour, when all the women gathered for a cocktail hosted by Kyle Richards.
"I have a question for everyone, when I first meet Scott Disick, should I call him Lord?" Rinna posed in front of the group. Kathy Hilton responded immediately, saying she had done it and should also "do a little curtsy" when they meet.
"He's too old and has three kids. It's not a good game," Kyle then exclaimed – getting an "I KNOW!" from Rinna in return.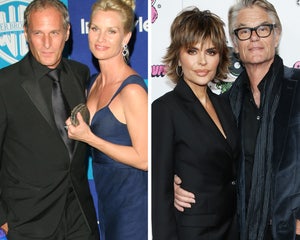 Getty
Michael Bolton reacts to alleged role in Harry Hamlin and Nicollette Sheridan divorce

See the story
In a series of confessionals, all women were asked if they would be "panicked" with their own daughters dating an older man. Erika, of course, said no, Kyle said she "wouldn't allow it", Garcelle gave a "Hell no!" and Sutton said she would "lock him in the house, take his cell phone away and spank him." Kathy Hilton, meanwhile, said that as someone whose daughters have been in the public eye, it could be "worse."
Garcelle also spoke about how she could relate to the situation, saying she was initially unhappy when one of her sons started dating a woman with three children and had a child of his own. While she said "it was a very difficult time for a very long time", she also said that her family is now "the best thing that has ever happened". She added, "You can't judge a book by its cover."
While the conversation ended with Richards telling Rinna "that too will pass," expect Scott and Amelia to return next week as a preview teased Harry himself.
"Real Housewives of Beverly Hills" airs Wednesdays on Bravo.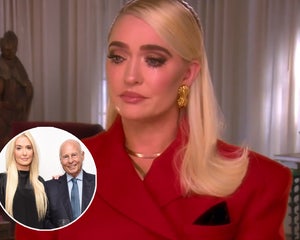 Well done / AP
Erika Jayne reveals why she filed for divorce and how she blinded Tom to RHOBH

See the story